The Broadway Biddie: Here she is, boys! Here she is, world!
Updated: Jan 8, 2022
Hello NYC ( and the rest of the world)! Welcome to my new blog BROADWAY BIDDIE... a lifestyle guide, a place to find the latest trends, my new Broadway ideas, narrative of my EXTREMELY exciting life in the Big Apple, and a place where I can gather my thoughts.
If you don't know me personally... get ready. My name is Delaney Stephens. I am a gemini vegetarian (pescatarian when I am back in my home state, Little Rhody), "natural" blonde, socially anxious extrovert, and recent graduate from Ithaca College's BFA Musical Theatre program. I have recently made the big move to New York City and live in a tiny, sun drenched apartment with my bestie and fellow Ithaca Alum, Maya. It couldn't be more perfect!
Each week I have decided I will write my 3 big takeaways for living in the city, 2 goals for next week, and 1 thing that really really stinks! So *insert drumroll * here they are!
Weekly Thoughts:
1. Invest in a good pair of footwear
I love white sneakers. But on any rainy day in the city one finds a SEA of poop- dog, of course. Human, maybe- sprinkling the sidewalks. So those sexy white sneakers that I picked up from the TJ Maxx in Seekonk, MA might not cut it. They are now STAINED not only from the dog sh** on the street but also from the "sparkling" Subway platform. Not to mention, with the absurd amount of walking I did during apartment hunting, the sole's are now SHREDDED. Doc Marten are you taking new patients? Because I am in desperate need of some cute new Chelsea boots!
2. Walk outside with no destination in mind
Okay I know I sound like an old lady but SERIOUSLY walking outside in the city changes my whole day. The sounds of sirens, people talking on the phone, car horns, and dogs barking can really remind a girl just how lucky she is. The one good thing about the city is that no matter who you are and what you do you are one nameless extra in the blockbuster movie that is New York. Just put in your headphones- or airpods- a hot a** outfit and just walk. I know the "Hot Girl Walk" is basic but honestly it works. Trust me I'm also an avid fan of the "Sad Girl Run" and let me tell you nine out of ten times that run just ends up with me walking listening to Chappell Ronan's "Pink Pony Club".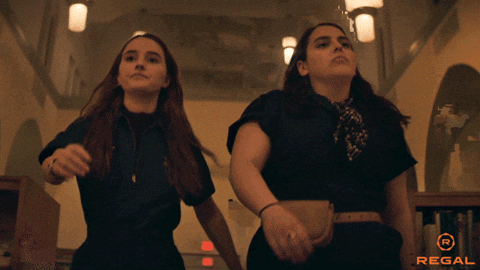 3. Fake nails are a great temporary solution
Okay, so my second semester Junior Year I studied abroad in London. It was INCREDIBLE! I learned so many things there about fashion, drinks, food, culture, and that press on nails are literally a gift from the gods. We might not have the one pound nails that they sold by the bunches at Primark but we do have Duane Reade which has a lovely array of options. Just popped those suckers on and feel like a cool chick! Just make sure to keep some extra nail glue in your black puffer jacket!
When I moved to the city I didn't think I would immediately end up on Broadway but I didn't think that I would spent hours locked in my apartment (annoying my neighbors) singing the WORST cut of Celine Dion's rendition of "All By Myself"- while ironically being very much "all by myself". Yet, most of my week is a combination of trying to submit self-tapes while running to catch the C train to get to work for the dinner shift. A funny take on the term "working actor".
Goals for next week:
Dance classes are absolutely terrifying. I'm sure Donna McKechnie still gets those nervous butterflies walking into a new studio for the first time. Okay, maybe not THE legendary Donna McKechnie but thinking like that gets me through the day. I'm not the worst dancer but I do have anxiety so wish me luck!
2. Return my new yoga pants
A strange goal, yes, but in the city that never sleeps sometime those little errands take a sideline to the spontaneity of life. For Christmas I got a cute new pair of cherry red flare pants from Aerie that also came with a giant hole in the crotch. Although I love the pants I don't care for the secret surprise.
**side note: No goal is too small in the city!!
I have no idea why I decide to end on a stinky note BUT I will say my one thing that "really really stinks" this week has a nice silver lining to it
So Tik Tok itself does not stink. In fact, I probably spend a couple hours on it a day- a fact that pains me. What does stink is the narrative it can sometimes spread. Not everyday in the city is filled with soirees and free coffees, that would cost a lot. Truthfully, the city can be a lot more lonely than it is romanticized on the screen. I spend most of my days alone- unless I'm at work. So when I do make plans with people, or my roommate has the occasional same day off as me, it makes hanging out with friends that much more special. In all honesty, the transition from college to the real world is tough and there is no guide on how to navigate these next few years. BUT know that you are not alone. Plenty of other people are struggling to find the "right" balance between work, life, anxiety, self-tapes, and friendships. Or if they aren't know that at least one person is on the good old struggle bus. Me.
Remember the city can be crazy, lonely, and exhausting but it also a place for reinvention and spontaneity. No two journeys are the same but that's what makes life fun! Cheers until next time everyone!
D.